ECRI Top Health Technology Hazards List Once Again Includes Endoscope Reprocessing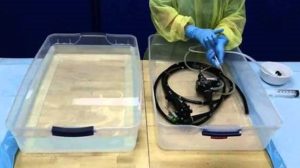 The ECRI Institute, based in Philadelphia, has just released its annual list of health technology hazards for 2018.  Unsurprisingly, endoscope reprocessing once again appears near the top of the list, coming in as the number 2 hazard for 2018.
ECRI's list is the result of extensive research by its own engineers, scientists and clinicians, as well as investigation into its own problem reporting network.  The list considers criteria such as severity, frequency and insidiousness when ranking the hazards.  It's no surprise that endoscope reprocessing came in as number 2 on the list, as reports of safety breaches continued to pop up all over the US during 2017 regarding improper reprocessing of endoscopes.   The Executive Brief published by ECRI Institute explains why endoscope reprocessing continues to be such a concern:
"Failure to consistently and effectively reprocess flexible endoscopes – that is, failure to clean and disinfect or sterilize the instruments between uses – can lead to the spread of deadly infections. Studies highlighting the challenges of this process, along with continuing reports of patient exposures to contaminated instruments, underscore why this topic remains a critical concern. (We have included some version of this topic in eight of the 10 previous editions of our list.)

Areas that require particular attention include:

The cleaning step, which is largely manual and technique-dependent. If biologic debris and other foreign material is not cleaned from the endoscope first, residual soil can harden, making subsequent disinfection ineffective.
Instrument storage after reprocessing. Moisture trapped in the channels of an endoscope can promote the proliferation of any microbes not eradicated by reprocessing.

To achieve more reliable and effective endoscope reprocessing, ECRI Institute recommends that healthcare facilities: (1) establish processes for assessing the quality of the cleaning step – for example, through magnification-aided visual inspections and the use of biochemical testing – and (2) implement measures to dry endoscope channels after reprocessing. Additional, detailed recommendations are presented in our complete report."
Read the entire Executive Brief here: Top 10 Health Technology Hazards for 2018
As the spotlight on endoscope reprocessing continues to shine, steps like visual inspection and channel drying help staff ensure that scopes are being disinfected to the highest possible standard.  We must make sure that team members are performing the steps of the reprocessing cycle consistently and are documenting their findings along the way. If your department wants to automate the workflow and documentation process of the reprocessing cycle, consider a software system like iRIScope. Systems like these ensure that your staff are performing consistent, repeatable and documented steps during reprocessing.  They also minimize manual efforts to document the process by incorporating advanced data collection technologies like RFID directly in to the workflow. The combination of modern verification techniques, like visual inspection and channel drying, with a highly automated workflow and data collection system, like iRIScope, is virtually guaranteed to set your staff up for repeated success.