Hospitals Still Struggle To Combat Infectious Bacteria In Their Scopes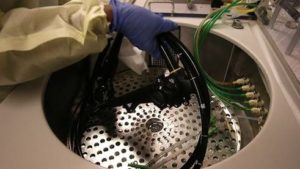 Recent research has once again shined the spotlight on the struggle hospitals face to rid their reusable medical endoscopes of dangerous bacteria. In this particular study, published in the American Journal of Infection Control, 71% of "patient-ready" scopes at 3 major US hospitals tested positive for bacteria.
The study found problems in various types of endoscopes used for colonoscopies, lung procedures, kidney stone removal and other routine operations. As this article by Chad Terhune at Kaiser Health News elaborates:
"Researchers said the findings at the hospitals, which weren't named, confirm earlier work showing that these issues aren't simply confined to duodenoscopes, gastrointestinal devices tied to at least 35 deaths in the U.S. since 2013, including three at UCLA's Ronald Reagan Medical Center. Scope-related infections also were reported in 2015 at Cedars-Sinai Medical Center in Los Angeles and Pasadena's Huntington Hospital.

The bacteria this latest study found weren't superbugs, but researchers said there were potential pathogens that would put patients at high risk of infection. The study didn't track whether the patients became sick from possible exposure.

The study's authors said the intricate design of many endoscopes continues to hinder effective cleaning and those problems are compounded when healthcare workers skip steps or ignore basic protocols in a rush to get scopes ready for the next patient. The study identified issues with colonoscopes, bronchoscopes, ureteroscopes and gastroscopes, among others.

"Sadly, in the 10 years since we've been looking into the quality of endoscope reprocessing, we haven't seen improvement in the field," said Cori Ofstead, the study's lead author and an epidemiologist in St. Paul, Minn., referring to how the devices are prepared for reuse.

"If anything, the situation is worse because more people are having these minimally invasive procedures and physicians are doing more complicated procedures with endoscopes that, frankly, are not even clean," Ofstead said.

The rise of antibiotic-resistant superbugs such as CRE (carbapenem-resistant Enterobacteriaceae), which can be fatal in up to half of patients, has made addressing these problems more urgent. About 2 million Americans are sickened by drug-resistant bacteria each year and 23,000 die, according to the federal Centers for Disease Control and Prevention.

"We're not moving fast enough to a safer world of reusable medical devices," said Michael Drues, an industry consultant in Grafton, Mass., who advises device companies and regulators. "There is plenty of fault to go around on device companies, hospitals, clinicians, on basically everybody."

Despite the potential risks, medical experts caution patients not to cancel or postpone lifesaving procedures involving endoscopes. These snake-like devices often spare patients from the complications of more invasive surgeries.

"Patients should speak to their provider and think about the risks versus the benefits," said Haas, who is also director of epidemiology at Lenox Hill Hospital in New York City.

The Food and Drug Administration and Olympus Corp., a leading endoscope manufacturer in the U.S. and worldwide, both said they were reviewing the study.

Last month, the FDA issued warning letters to Olympus and two other scope makers for failing to conduct real-world studies on whether healthcare facilities can effectively clean and disinfect their duodenoscopes. The FDA ordered the manufacturers to conduct those reviews in 2015 after several scope-related outbreaks in Los Angeles, Seattle and Chicago made national headlines.

Olympus spokesman Mark Miller said the Tokyo-based company intends to "meet the milestones set forth by the FDA…Patient safety has always been and remains our highest priority."

The latest study examined 45 endoscopes, with all but two manufactured by Olympus. The other two were Karl Storz models.

Last year, researchers visited three hospitals and performed visual examinations and tests to detect fluid and contamination on reusable endoscopes marked ready for use on patients. One hospital met the current guidelines for cleaning and disinfecting scopes, while the other two committed numerous breaches in protocol.

Nevertheless, 62% of the disinfected scopes at the top-performing hospital tested positive for bacteria, including potential pathogens. It was even worse at the other two — 85% and 92%.

The study painted a troubling picture at the two lower-performing hospitals, which were well aware researchers were watching.

Among the safety issues: Hospital technicians wore the same gloves for handling soiled scopes fresh after a procedure and later, when they were disinfected and employees wiped down scopes with reused towels. Storage cabinets for scopes were visibly dirty and dripping wet scopes were hung up to dry, which is a known risk because bacteria thrive on the moisture left inside. The two hospitals also turned off a cleaning cycle on a commonly used "washing machine," known as an automated endoscope reprocessor, to save time.

"It was very disturbing to find such improper practices in big health systems, especially since these institutions were accredited and we assumed that meant everything would have been done properly," said Ofstead, chief executive of the medical research firm Ofstead & Associates.

Ofstead and her coauthors recommended moving faster toward sterilization of all medical scopes using gas or chemicals. That would be a step above the current requirements for high-level disinfection, which involves manual scrubbing and automated washing. A shift to sterilization would likely require significant changes in equipment design and major investments by hospitals and clinics.

In their current form, many endoscopes aren't built to withstand repeated sterilization. Some also have long, narrow channels where blood, tissue and other debris can get trapped inside.

In some cases, disposable, single-use scopes are an option, and new products are starting to gain acceptance. In other instances, certain parts of a scope might be disposable or removable to aid cleaning.

The Joint Commission, which accredits many U.S. hospitals and surgery centers, issued a safety alert last year about disinfection and sterilization of medical devices in response to a growing rate of noncompliance. In 2016, the Joint Commission cited 60% of accredited hospitals for noncompliance, and 74% of all "immediate threat to life" citations from surveyors related to improperly sterilized or disinfected equipment.

Michelle Alfa, a professor in the department of medical microbiology at the University of Manitoba, said accreditors may need to conduct more frequent inspections and endoscopy labs should be shut down "if they don't get their act together. These results are totally unacceptable.""
Read the entire article here: Hospitals and device makers still struggle to rid medical scopes of infectious bacteria
The infection risk with endoscopes across all the major scope manufacturers continues to be an issue for hospitals.  Hospitals must continue to be vigilant in their use of endoscopes and must ensure processes are followed strictly to minimize infection risk. Where strong processes are missing, hospitals must work to ensure the proper people and systems are in place to upgrade processes to the highest standards. Software systems such as iRIScope have been introduced in recent years to help hospitals ensure that each of their flexible endoscopes is reprocessed the proper way each time, and documentation of their reprocessing is kept electronically using advanced RFID technology.