How To Increase Endoscope Reprocessing Protocol Adherence With Technology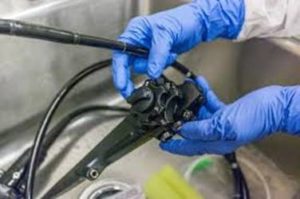 Flexible endoscopes have been the source of many superbug breakouts over the past decade. In order to protect your facility from the patient safety and legal nightmares that superbug breakouts lead to, you need to make sure that your staff is following your standard operating procedures for reprocessing endoscopes every single time.
Even the best trained staff members can make mistakes when they come under high-pressure situations. So how can you make sure that you catch any of these mistakes when they occur and what can you do to prevent them from happening in the first place? As this article from Cynthia Saver at OR Manager discusses:
"Policies and procedures. Policies and procedures should be specific, sufficient, and congruent with current guidelines, [Scott Lucas of ECRI Institute] says. If they aren't, they should be revised. Lucas adds that it's best to have separate policies for instruments and endoscopes because each category has unique needs. He advises reviewing and updating policies on a regular basis and whenever any new equipment is added.

Compliance. Sometimes the best policies and procedures aren't followed because of pressures such as time constraints. To assess for compliance, the team can review reprocessing logs for completeness, check biological indicator and test procedures and results, and conduct audits.

"It's good to use peers to conduct some of the audits," Lucas says. For example, staff can check a percentage of trays for proper processing. Supervisors can conduct random audits at various points in the processing cycle. Some instrument tracking systems may make it possible to link trays to the specific patients on whom they were used.

Staffing. Lucas says the team should ask, "Where are the bottlenecks?" because staff may cut corners in these situations. Bottlenecks may occur during a specific shift or in a specific point in the reprocessing cycle, such as the manual cleaning station.

It's also important to assess staffing levels, what percentage of staff are from agencies, whether staff have had sufficient training, and how long it takes for staff to clean an instrument. (If cleaning takes a long time, it may be necessary to change the technique so that the instrument is still clean, but the time is reduced.) Lucas recommends that organizations commit to having an SPD supervisor on each shift to support staff and manage problems that arise."
Read the entire article here: 'Coming clean' in the SPD requires collaboration and competency–Part 2
With all the protocols that endoscope techs and sterile processing staff must follow to properly high level disinfect every scope, certain steps may be skipped from time to time. While supervisors can spot check and catch a certain percentage of these errors, it's not feasible to keep a pair of eyes on staff 24×7. This is where a scope tracking system, such as iRIScope from Mobile Aspects, can come into play. The system's built in artificial intelligence analyzes all reprocessing steps in real-time to assess whether critical steps are missed. The system can then send immediate alerts to supervisors, and even display alerts on storage cabinets to warn end-users not to use any potentially poorly reprocessed endoscopes. While staff can be trained ad infinitum, all employees are prone to occasional mistakes. Help mitigate this risk with a smart tracking system like iRIScope and you could potentially save patients' lives.