Is Your Endoscope Reprocessing Area Set Up For Success?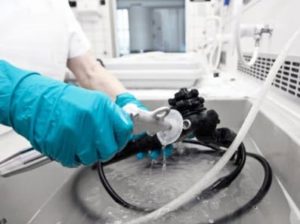 Many hospitals continue to underestimate the importance of a successful endoscope reprocessing practice. Several hospitals and medical facilities that we've visited invest too little in facilities and staff to prepare their endoscopes after usage in procedures.  However, if a hospital is unable to successfully ensure the cleanliness of these vital reusable instruments, they could be facing severe patient safety and financial risks.



Even with and underfunded endoscope reprocessing practice, sterile processing departments must do what they can within their budget to properly reprocess their endoscopes. This article by Ray Taurasi at Healthcare Purchasing News summarizes what to look out for when designing your endoscope reprocessing area:
 "The Healthcare Infection Control Practices Advisory Committee (HICPAC) is a federal advisory committee chartered to provide advice and guidance to the Centers for Disease Control and Prevention (CDC) and the Secretary of the Department of Health and Human Services (HHS) regarding the practice of infection control and strategies for surveillance, prevention, and control of healthcare-associated infections, antimicrobial resistance and related events in United States healthcare settings. CDC asked HICPAC for guidance on ways to improve facility-level training and ensuring competency for reprocessing endoscopes. HICPAC formed a multi organizational and professional work group, that as requested by CDC, produced a very intense and complete advisory document which was then published by the CDC in 2016.

The HICPAC document listed the following eight key points that should be considered for the establishment of an appropriate work setting for the processing of endoscopes.
The reprocessing area should be in a space that is separate from the patient procedural area.

Review the physical setting to ensure a "one way" work flow that separates contaminated work spaces from clean work spaces.

If a separate room is used for manual cleaning of endoscopes, ensure a directional airflow that maintains negative pressure within that room relative to adjoining spaces.

Ensure that heating, ventilation, and air conditioning parameters are appropriate for the chemicals and equipment in use.

Staff should have access to a handwashing sink that is separate from the reprocessing sink(s).

Install eyewash stations, either plumbed or self-contained, within the endoscopy reprocessing room where chemicals that are hazardous to the eyes are used. Eyewash stations should not be installed in a location that requires flushing of the eyes in the decontamination sink.

Ensure that manufacturer's IFUs for reprocessing of the endoscopes and for use of the AERs and associated chemicals are readily available.

Provide designated space to enable access to files electronically (e.g., computer) or hard copy (e.g., in binders for IFUs and Safety Data Sheets for chemicals used to reprocess flexible endoscopes)."
Read the entire article here: Passing eyewasher inspections; creating a suitable space for scope processing
Once you've ensured that your endoscope reprocessing area is suitably equipped, you'll then need to turn your attention to your staff and processes. Make sure that your staff are adequately trained and certified periodically. Then make sure that your processes following best practices and are being adequately tracked via documentation. If your department wants to automate the workflow and documentation process of the reprocessing cycle, consider a software system like iRIScope. Endoscope tracking software like iRIScope ensures that your staff are performing consistent, repeatable, and documented steps during reprocessing. They also minimize manual efforts to document the process by incorporating advanced data collection technologies like RFID directly into the workflow.