Olympus Receives FDA Clearance For Duodenoscope With Disposable Component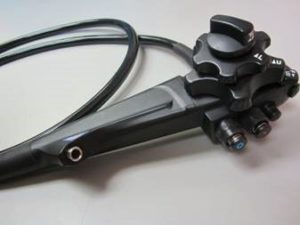 Olympus has joined the list of duodenoscope manufacturers receiving the green light to market a duodenoscope with disposable components by the United States Food and Drug Administration (FDA). Following closely on the heels of Pentax and Fujifilm's models with disposable components, and Boston Scientific's fully disposable duodenoscope, Olympus is now cleared to sell a duodenoscope with a disposable distal endcap.
The FDA has been pushing manufacturers of duodenoscopes to introduce models with disposable components or fully disposable models. This is due to the difficult nature of effectively reprocessing duodenoscopes, which have shown high levels of contamination in many studies even after high level disinfection was completed. The FDA recently issued a recommendation for hospitals to consider transitioning to duodenoscopes with disposable components or fully disposable duodenoscopes as soon as possible. As this press release from Olympus explains:
"The TJF-Q190V duodenoscope responds to the FDA's call for duodenoscopes with disposable components that improve access to the elevator mechanism for ease of reprocessing.
The innovative features designed to improve cleaning and reprocessing, which are based on findings of human factors studies, include:
Use of a sterile, clear, single-use distal endcap cover that is removed and discarded post-procedure. This design prevents the possibility of reuse.
Improved visualization of and access to the distal end for manual cleaning and disinfection.
A first-of-its-kind, proprietary distal-end flushing adaptor for cleaning the elevator mechanism.
A sealed elevator wire channel port that does not require separate cleaning.
A new water-resistant scope connector that minimizes the risk of fluid ingress.
Olympus will perform periodic inspection and maintenance of every TJF-Q190V based on frequency of reprocessing, to better ensure that normal wear and tear does not compromise the functionality of the duodenoscope or the ability to properly reprocess the duodenoscope.
Finally, the TJF-Q190V duodenoscope addresses the clinical needs of physicians. Recent statements from medical societies regarding duodenoscope reprocessing and infection control clearly reinforce the need to be able to offer the potentially lifesaving ERCP (endoscopic retrograde cholangiopancreatography) procedure to treat seriously ill patients, rather than more invasive options, such as surgery. The performance of the duodenoscope is critical to reaching difficult-to-access digestive system anatomy. The advanced features of the TJF-Q190V include an expanded field of view, reliable guidewire locking, and more precise handling."
Read the entire communication here: Olympus Announces FDA Clearance of the TJF-Q190V Duodenoscope
Whether your facility prefers Olympus, Pentax, Fujifilm or other duodenoscopes, the transition from rigid end caps, to disposable end caps and elevators to now fully disposable duodenoscopes is underway. To ensure patient safety, hospitals must design a standard protocol that ensures maximum disinfection of duodenoscopes after each use. Hospitals must also implement systems and processes that allow them to check that staff are following their protocols and documenting their steps for regulatory purposes, such as Joint Commission surveys. Systems such as iRIScope can display the proper workflow for reprocessing duodenoscopes and other endoscopes and document the individual steps automatically. Any breaches of protocol can be alerted in real-time to protect patients and identify which staff members need additional training on reprocessing techniques. You owe it to your staff and your patients to offer the peace of mind that duodenoscopes and all other flexible endoscopes are being properly reprocessed every single time.