Olympus Scopes Tied To Another Outbreak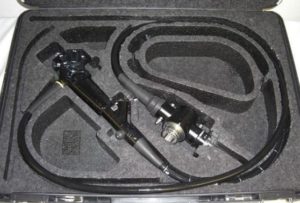 Newly found evidence has revealed that Olympus duodenoscopes have been tied to another infection outbreak.  Per the report filed with the FDA, a foreign facility saw five of its patients who were treated with Olympus duodenoscopes infected with Klebsiella pneumoniae.  The facility's name and location were not included in the report, however it was reported that the outbreak occurred in December 2016.
While the Olympus TJF-Q180V duodenoscopes used at the hospital had their recall-related fixes completed in October 2016, it is too early to tell if the duodenoscopes were solely at fault for the outbreak.  As this article by Melody Petersen at the Los Angeles Times explains:
"Lawrence Muscarella, a medical safety expert in Montgomeryville, Pa., said the outbreak raises questions about whether Olympus' recall and replacement of the mechanism was enough to keep patients safe.

"Does this new 'fix' work?" asked Muscarella, who discovered the outbreak report in the FDA's database of medical device injuries. He said it was not clear whether the hospital had properly disinfected the device using the process that Olympus now recommends.

The FDA said in January 2016 that it had approved Olympus' new design of the device.

Deborah Kotz, an FDA spokeswoman, said Wednesday that the agency was "was aware of these reports and continues to investigate adverse events associated with duodenoscopes as appropriate."

Olympus, a Japanese company with extensive operations in the U.S., told the Times it had notified the FDA of "the reported event."

"In the interest of patient safety, it is premature to reach a conclusion regarding the cause," said Mark Miller, an Olympus spokesman."
Read the entire article here: Olympus' redesigned scope is linked to infection outbreak
As the issues with Olympus and its competitors' duodenoscopes continue to mount, hospitals must do all they can to avoid the occurrence of an adverse event.  The most up-to-date cleaning instructions must be used, and scopes must be closely checked for all potentially problematic damage. Having a proper scope tracking system in place can allow hospitals to implement strong protocols and ensure compliance from their staff.  Altogether, it will be a total team effort to allow your hospital to avoid further infection outbreaks.