Potential Outbreaks Related To Gastroscopes Revealed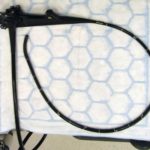 A potential superbug linked to contaminated gastroscopes at UPMC in Pittsburgh, PA was discussed in a recent article in the Pittsburgh Tribune-Review (01/03/17). The author, Dr. Lawrence Muscarella, wrote that the infected gastroscopes may have infected up to 6 patients with carbapenem-resistant Klebsiella pneumoniae (CRKP), a deadly superbug.
This article by Gordon Gibb of LawyersandSettlements.com discusses the potentially deadly outbreak and how it may have started:
""All six patients who received medical care in the hospital's surgical intensive care unit were 'exposed' to the same gastroscope (The abstract uses the word 'exposed' presumably to refer to this gastroscope being used to perform endoscopy on each of these six patients)," Dr. Muscarella writes – adding the authors of the abstract suspected the gastroscope had become contaminated with the cluster's superbug and subsequently transmitted to each of the six patients, much in the same way that endoscopes and duodenoscopes have passed along infection to other patients, or so it has been alleged.

"Carbapenem-resistant K. pneumoniae, or CRKP, is an emerging health care-associated pathogen and a prominent type of superbug called carbapenem-resistant Enterobacteriaceae, or CRE," Dr. Muscarella further states, adding the mortality rate of patients infected with CKRP or related CRE can be as high as 50 percent."
Read the entire article here: In the Midst of Concern Over Endoscope Infection, a New Threat Looms
With outbreaks linked to gastroscopes joining the many reported outbreaks from infected duodenoscopes, the danger to endoscope manufacturers, healthcare facilities, and most importantly patients continues to grow. Hospitals must double down their efforts to ensure their endoscope reprocessing practices are meeting the highest standards in order to protect themselves from potential lawsuits.