A First Of Its Kind Solution For Tracking, Storing and Charging Vocera Badge Batteries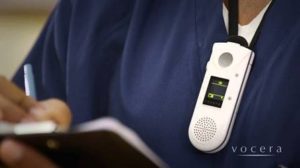 Many hospitals have implemented the Vocera platform to improve communications and connectivity among staff. The Badges and Smartbadges used with the Vocera platform allow clinical staff, who are typically busy rounding on patient floors and not tethered to a desk, to stay connected to their colleagues and discuss important items via calls or messages.
One pain point of users of the Vocera system has been the battery life and the need to monitor the batteries that need to be charged or swapped out daily. Because of the small footprint and lightweight nature of the batteries, many staff members often misplace or lose the batteries. This leads to some hospitals ordering hundreds or even thousands of extra batteries per year just to keep up with demand.



One major academic hospital in the Northeast uses Vocera in their busy operating rooms and orders hundreds of badge batteries per year to replace lost ones. This cost, and the constant frustration of employees in search of new batteries, has led them to implement a battery charging and tracking station that uses RFID technology.
This Vocera badge tracking system, developed by Mobile Aspects, allows hospitals to effectively track the chain of custody of Vocera badge batteries while providing a convenient charging station for employees. The system uses RFID-enabled cabinets that automatically detect when batteries are loaded or removed from the cabinets. Employees can only access the batteries after logging in to the cabinet using their badge, so all batteries they remove are associated with them. This allows hospitals to monitor which employees are misplacing the most batteries for accountability purposes. The cabinets are also outfitted with battery chargers so the batteries can recharge while being stored.
The hospital deployed the first-of-its-kind system with the hopes of reducing or eliminating its $60,000 annual spend on replacement batteries. Employees will also benefit from having a convenient, central location to charge their batteries and swap them out when needed. For more information visit www.mobileaspects.com