FDA Clears Pentax Duodenoscope With Disposable Cap To Advance Safety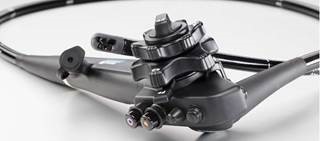 The United States Food and Drug Administration (FDA) recently cleared the first duodenoscope with a disposable distal cap.  It is believed that the new feature will improve access for cleaning and reprocessing of duodenoscopes, leading to improved patient safety.  The Pentax model ED34-i10T duodenoscope is being released following a field correction issued earlier in 2017 by Pentax, which warned of potential safety issues with existing Pentax duodenoscopes.
The FDA in its release also detailed the following:
"We believe the new disposable distal cap represents a major step towards lowering the risk of future infections associated with these devices," said William Maisel, M.D., M.P.H., acting director of the Office of Device Evaluation in the FDA's Center for Devices and Radiological Health. "Improving the safety of duodenoscopes is a top priority for the FDA, and we encourage companies to continue to pursue innovations that will help reduce the risk to patients."

Duodenoscopes are used in more than 500,000 procedures each year as a less invasive way than traditional surgery to drain fluids from pancreatic and biliary ducts blocked by cancerous tumors, gallstones or other gastrointestinal conditions. The flexible lighted duodenoscope, which is threaded through the mouth into the top of the small intestine, is a complex medical device with many small working parts that can be difficult to clean. If not thoroughly cleaned and disinfected, the device can trap contaminated tissue or fluid in its crevices, transmitting infections between patients.

It is critical that hospitals and health care facilities meticulously follow manufacturer's reprocessing instructions for cleaning and disinfecting duodenoscopes. This lowers the risk of spreading infections between patients. While the risk of infection transmission cannot be completely eliminated, the benefits of these devices continue to outweigh the risks in appropriately selected patients."
Read the entire release here: FDA clears first duodenoscope with disposable distal cap
The infection risk with duodenoscopes across all the major scope manufacturers continues to be an issue for hospitals.  Hospitals must continue to be vigilant in their use of duodeonscopes and consider new advancements such as the Pentax ED34-i10T duodenoscope.  Where strong processes are missing, hospitals must work to ensure the proper people and systems are in place to make sure processes are being followed exactly as designed.  Systems such as iRIScope have been released in recent years to help hospitals and healthcare facilities ensure the highest levels of compliance and standardization when it comes to endoscope reprocessing.