Return Clinician Time To Patients With EMR Improvements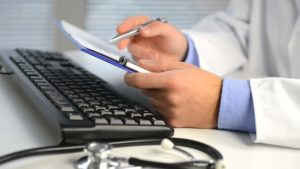 Physicians and other clinicians in hospitals have been increasingly vocal about their frustration with the time they are spending documenting encounters in EMRs instead of focusing on patient care.  Backing up that claim is a study published in the Annals of Internal Medicine that found that only 27% of the average day is spent by physicians on direct patient care, while nearly 50% of their day is spent on data entry and other administrative work.
The time-motion study was conducted by experts at the American Medical Association and Dartmouth-Hitchcock Health Care System.  The study found a nearly 2:1 ratio of administrative time to patient interaction time. As this article by Troy Parks at the AMA Wire discusses:
"Physicians do not feel these are the tasks that should be taking up a majority of their work day—they undercut the patient-physician relationship.

"I am not surprised to hear these results, and I can tell you no one who practices medicine today would be surprised by them," said AMA Immediate-Past President Steven J. Stack, MD, to entrepreneurs at MATTER, Chicago's health care technology incubator. "But they highlight exactly why new technologies that can bring greater efficiencies to medicine are so important."

The time-motion study correlates with a study published recently in the Journal of Graduate Medical Education that tracked the average "mouse miles"—or active time—residents spent using EHRs. The study found that first-year residents spent an average of five hours per day on the EHR caring for a maximum of 10 patients."
Read the entire article here: Clicks and keyboards stealing face time with patients
It is up to healthcare providers to arm their staff with the necessary tools to provide both excellent patient care and accurate and complete documentation of their encounters.  One way that hospitals can reduce the burden on clinicians is to eliminate redundant tasks in the EMR.  For example, natural language processing tools can help turn transcription data into notes that need to only be verified instead of typed in from scratch.  Additionally, automated data capture systems, such as iRISupply, can provide high quality data by integrating RFID data capture technology directly into your EMR, eliminating the need to have clinicians re-enter supply and implant information into the EMR during hectic procedures.