FDA Presses Industry To Use Duodenoscopes With Disposable Components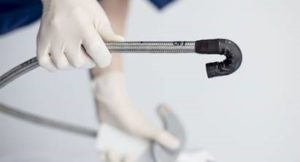 The United States Food and Drug Administration (FDA) has begun its effort to move the US healthcare industry to use duodenoscopes with disposable components, such as end caps. The effort is being made to reduce the incidences of superbug transmissions through inadequately reprocessed duodenoscopes that have been reported in recent years.
The FDA is urging healthcare facilities to end their use of duodenoscopes with rigid end caps from the major manufacturers Olympus, Pentax and Fujifilm. Their view is that using disposable end caps can remove one variable from reprocessing that has proven difficult to properly disinfect for some facilities. A recent article by Conor Hale at Fierce Biotech continues:
"..the FDA is urging duodenoscopes be designed with single-use caps that eliminate the need for reprocessing and allow improved access to the device's interior for cleaning. The first duodenoscope with a disposable plastic end cap, Pentax's ED34-i10T, was cleared in September 2017; Fujifilm has since received clearance for a similar model.

For the future, the agency recommends the industry move toward fully disposable duodenoscopes once they become available.

"We recognize that a full transition away from conventional duodenoscopes to innovative models will take time and immediate transition is not possible for all health care facilities due to cost and market availability," Jeff Shuren, director of the FDA's Center for Devices and Radiological Health, said in an agency statement.

"This is why we're communicating with health care facilities now—so they can begin developing a transition plan to replace conventional duodenoscopes—and those facilities that are purchasing duodenoscopes with fixed endcaps can invest in the newer, innovative models," Shuren said. "We are also encouraging the manufacturers of these duodenoscope models to assist health care facilities with their transition plans."

Though the overall risk of transmitting infections through reused duodenoscopes is relatively low, continuing reports of contamination have caused the agency to act, he added. Earlier this year, the FDA reported new surveillance data tracking infection rates linked to reprocessed devices from Olympus, Fujifilm and Pentax.

In April, the agency disclosed that 5.4% of samples tested positive for what it describes as "high concern" organisms—such as Escherichia coli or the bacteria related to staph infections—up from 3% detailed in a safety communication in December 2018.

According to the FDA, flexible duodenoscopes are used in more than 500,000 endoscopic procedures a year, including in the diagnosis of the pancreas and bile ducts. Reprocessing procedures can take hundreds of steps to remove bodily tissues and fluids as well as microorganisms.

"Information from postmarket surveillance human factors studies indicate that many steps in the reprocessing instructions cannot be reliably followed by health care facilities," the agency said, referring to real-world studies required of Olympus, Fujifilm and Pentax, adding that users frequently had difficulty understanding and completing the manufacturers' instructions.

Going forward, the FDA is ordering new postmarket studies of devices with disposable end caps to ensure the feature makes reprocessing instructions easier to follow and lowers contamination rates. The agency requested that real-world contamination rates be included in product labeling once those studies are completed.

"We are collaborating with the FDA and are supportive of their recommendation of a gradual transition to duodenoscopes with disposable components," an Olympus representative said in a statement to FierceMedTech. "Accordingly, we are diligently working on development of a disposable endcap duodenoscope and anticipate filing our submission to the FDA as soon as possible."

The FDA is not making any changes to the approval status of currently cleared devices and said that it believes the continued availability of fixed end cap devices is in the best interest of the public health at this time."
Read the entire article here: Too tough to clean: FDA urges industry transition to disposable duodenoscopes
While the transition from rigid end caps, to disposable end caps to potentially fully disposable duodenoscopes takes place, hospitals must make sure that their staff is following the proper protocols each and every time a duodenoscope is reprocessed. Systems such as iRIScope can display the proper workflow for reprocessing duodenoscopes and document the process automatically. Any breaches of protocol can be alerted in real-time to protect patients and identify which staff members need additional training on reprocessing techniques. You owe it to your staff and your patients to offer everyone the peace of mind that duodenoscopes and all other flexible endoscopes are being properly reprocessed every single time.