First Disposable Duodenoscope Takes Major Step Forward With Clearance For CMS Reimbursement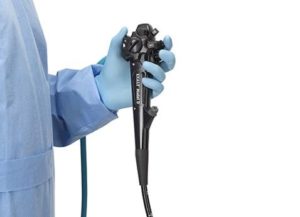 The Centers For Medicare and Medicaid Services (CMS) has approved the first fully disposable duodenoscope on the market for reimbursement. Boston Scientific announced that its EXALT Model D disposable duodenoscope, which received FDA clearance in December 2019, was granted approval for reimbursement in outpatient settings under the Medicare hospital outpatient prospective payment system.
The disposable model has been designed to function similarly to other duodenoscopes on the market, and aims to improve the safety of duodenoscope use, which has been tainted in the past by several links to superbug outbreaks. As this article by Susan Kelly at MedTech Dive explains:
"FDA as recently as April updated a safety communication recommending hospitals transition to duodenoscope designs that have disposable components, such as caps or distal ends, to help reduce risk of infection from contamination between patients. The devices are used in more than 500,000 endoscopic retrograde cholangiopancreatography (ERCP) procedures in the U.S. annually to diagnose and treat pancreatic and bile duct conditions, according to the agency.

FDA's recommendation arose from concern about contamination rates associated with traditional fixed end cap duodenoscopes, which can be hard to clean. Postmarket studies showed higher than expected levels of contamination, and newer studies by manufacturers Fujifilm, Olympus Medical Systems and Pentax Medical continued to show elevated rates, including the presence of organisms such as E. coli and Pseudomonas aeruginosa that are associated with disease transmission, FDA said.

Results from Fujifilm and Olympus also suggested that users of the devices frequently had trouble understanding and following manufacturers' instructions for reprocessing the duodenoscopes.

Newer duodenoscope designs, including those with disposable components such as end caps can eliminate the need for reprocessing. FDA has cleared five duodenoscopes with disposable components that facilitate reprocessing: Boston Scientific's EXALT Model D fully disposable duodenoscope, Fujifilm's model ED-580XT, Olympus Medical Systems' Evis Exera III Duodenovideoscope, and Pentax Medical's model ED34-i10T and model ED34-i10T2."
Read the entire article here: Boston Scientific secures CMS pass-through nod for single-use endoscopes
While the transition from rigid end caps, to disposable end caps to now fully disposable duodenoscopes takes place, hospitals must make sure that their staff is following the proper protocols each and every time a duodenoscope is disinfected. Fully disposable duodenoscopes may make financial sense to some facilities, but most will be expected to continue high-level disinfection of their reusable duodenoscopes after each use. Systems such as iRIScope can display the proper workflow for reprocessing duodenoscopes and document the process automatically. Any breaches of protocol can be alerted in real-time to protect patients and identify which staff members need additional training on reprocessing techniques. You owe it to your staff and your patients to offer everyone the peace of mind that duodenoscopes and all other flexible endoscopes are being properly reprocessed every single time.