Major Academic Medical Center Runs Successful Pilot Of Elastomeric Masks As Substitute For N95s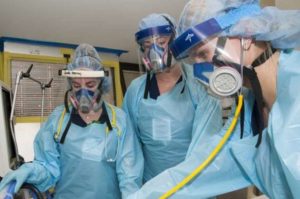 A major academic medical center in Pennsylvania recently announced a new initiative to combat the shortage of PPE stemming from Covid-19. Allegheny Health Network (AHN), an integrated healthcare delivery system based in Pittsburgh, announced that it has been testing the ability of its hospital staff to use elastomeric masks as an alternative to the high-demand N95 masks that most hospitals have been using.
As hospitals are facing an extreme shortage of PPE due to the Covid-19 pandemic, many are looking for options for reusable masks in order to alleviate their supply problems. While many have begun to sterilize N95 masks, AHN ran a test to see if elastomeric masks – seen more often in the construction and industrial markets – were a feasible alternative to N95 masks in terms of efficacy and cost. As this recent journal article published by Dr. Sricharan Chalikonda and several other AHN employees in the Journal of the American College of Surgeons explains:
"The COVID-19 global pandemic has placed a large demand on personal protective equipment for healthcare workers. N95 respirators, required to perform aerosolizing procedures, are in short supply and have increased significantly in cost. The lack of a clear end to the pandemic requires that hospitals need to create a long-term, cost effective solution to the N95 shortage. We initially used previously described methods to reuse and resterilize N95 masks however we found they did not solve the issues related to just in time fit-testing and cost.

Methods

We initiated a program with the aim to reduce our dependence on N95 masks by initiating a phased program to acquire industrial style elastomeric P100 masks as a substitute for reuse and resterilization of disposable N95s. We created an allocation strategy based on availability of the masks, as well as an operational plan to fit test, educate, and disinfect the masks.

Results

Within 1 month we were able to reduce the number of N95s needed by our network by 95%. We also found that the cost was conservatively 10 times less per month than purchasing disposable N95s and the cost benefit increases the longer that they are needed.

Conclusion

Establishing an elastomeric mask program is feasible and less expensive than programs focused on reusing and disinfecting disposable N95 masks. A well thought out elastomeric distribution and disinfection program does not pose greater operational challenges than an N95 reuse and resterilization program. In addition, elastomeric masks can be stored for future surges and should be considered an essential part of all healthcare facilities' supply of personal protective equipment. Implementation of the program has eliminated our dependence on disposable N95s to maintain normal operations during the global pandemic."
Read the full article here: Implementation of an Elastomeric Mask Program as a Strategy to Eliminate Disposable N95 Mask Use and Resterilization: Results from a Large Academic Medical Center
In order to effectively track sterilized PPE and stay within usage limits, hospitals and health systems must have the proper protocols and tracking mechanisms in place. Mobile Aspects has developed a unique software tracking system to address this specific challenge. The system works by tracking the number of uses of each piece of PPE using RFID technology to track usage counts at the item level. The system can identify how much PPE each employee is taking, and if anyone is in possession of multiple pieces of in-demand PPE, administrators will be notified so they can instruct the employee to return their excess items. With this system in place, hospitals and healthcare systems can be assured that sterilized PPE is being used as intended and is being sterilized before each use.
If your facility is exploring ways to track sterilized PPE, contact Mobile Aspects to find out more about its innovative new software.