Hospitals Look To Reprocess N95 Masks Due To Covid-19 Related Shortage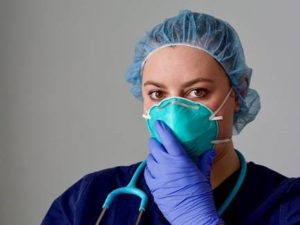 In the ongoing battle against Covid-19, much of the US healthcare system has suffered from a lack of personal protective equipment (PPE) for its frontline employees. The shortage of this important protective gear has led to hospital workers being put in needless danger of catching the extremely communicable coronavirus.
One company has been working on a special project to allow certain PPE, such as the N95 masks that have been critically needed by employees fighting Covid-19, to be decontaminated after each use to help alleviate the supply shortage. As this article by Conor Hale at FierceBiotech describes:
"Battelle received an emergency go-ahead from the FDA over the weekend to deploy its decontamination system for personal protective equipment (PPE), allowing healthcare workers to clean and reuse scarce N95 respirator masks.

The system is currently operating at Battelle's Ohio facility—capable of processing up to 80,000 masks per machine, per day, within what looks like a large metal shipping container—and has been working to help stretch supplies for the OhioHealth system based in Columbus.

Using concentrated hydrogen peroxide vapor, the filters are gassed for two and a half hours to destroy bacteria, viruses and other contaminants, including the novel coronavirus SARS-CoV-2. According to the company, the system can clean the same N95 mask up to 20 times without degrading its performance.

The FDA had first OK'd the use of the system on Saturday but initially limited its use to 10,000 masks per day, according to Republican Ohio Gov. Mike DeWine, who called on the agency to unlock the system's full decontamination capacity. DeWine also said this would have limited Battelle's plans to deploy machines to the hard-hit New York metro area as well as Washington state and Washington, D.C.

Within hours, and after President Donald Trump also urged the FDA to approve the equipment on Twitter, FDA Commissioner Stephen Hahn tweeted late Sunday evening that the agency had issued an amended authorization."
Read the full article here: Battelle deploys decontamination system for reusing N95 masks
For hospitals considering a process to decontaminate PPE to allow for multiple uses during the pandemic, they must have a reliable system in place to make sure they get maximum use out of the PPE without exceeding the allowable limits. Mobile Aspects is working with select healthcare systems on a novel tracking system to track PPE including N95 masks to make sure that maximum usage is reached without exceeding published guidelines. Contact us via our website to find out more.