How Technology Can Help Your Hospital Reach High Compliance Rates In Endoscope Reprocessing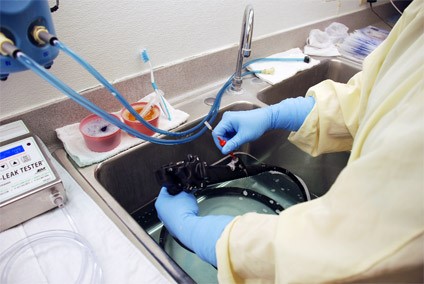 Over the last decade, incidences of outbreaks from infections that can be attributed to poorly disinfected endoscopes have been showing up in the news regularly. So much so that regulatory bodies from the US Congress to the FDA have been increasing their scrutiny of these extremely useful, yet sometimes problematic reusable medical instruments.
Many different groups have taken on the mantle to help hospitals learn from each other to institute best practices for effective reprocessing of endoscopes. One such group recently presented their findings at the Global Surgical Conference & Expo 2019. Presenters Daniel Fedderson, BSN, RN, MAJ, AN and Kenneth Romito, MSN, RN, MAJ, AN explained how they have taken their perioperative team to a 96%+ compliance rate for reprocessing. Their article in The Periop Life captured the main takeaways of their presentation:
"The intricate design of flexible endoscopes and multiple steps required for cleaning and high-level disinfection (HLD) make the process vulnerable to human error.

As perioperative nurses, we know that missing just one step or failure to complete any phase in endoscope reprocessing can result in patient exposure to harmful contaminants that can lead to infections, increased hospital stays, increased medical costs, and even death.

Auditing the Process

We recommended applying an evidence-based approach to improving standardization around reprocessing flexible endoscopes within our organization, and implemented audits conducted at three-month intervals with feedback to stakeholders to establish a standardized approach.

These four practices were key to effectively and successfully implement the audits:

Use an audit quality feedback loop administered at regular intervals consistently over time.
Measure clinical practice against well-established standards and/or evidence-based practice.
Incorporate a multidisciplinary approach with an established leader or facilitator to conduct and analyze the audits.
Assess leadership, education, training, and competency in addition to clinical practices as part of the auditing process.

Achieving Compliance

Robust leadership buy-in proved invaluable in implementing these audit best-practices by driving the changes in clinical performance and standardization of policies and equipment. However, building a structure around auditing best practices for safe endoscope reprocessing was a first step. Next, we needed a way to address ongoing process compliance.

To achieve buy-in among every team member, we focused on establishing a culture supporting the Highly Reliable Organization (HRO) goals of quality, safety, and continuous process improvement around endoscope reprocessing.

Three specific principles of high reliability in particular made the difference:

Preoccupation with failure—To prevent process failures, each audit focused on quality loop iteration, diminishing gaps between observed practices, evidence-based practice recommendations by professional organizations, and manufacturer IFUs.
Deference to expertise—By applying the HRO principle of deference to expertise, we established a task force with subject matter experts empowered to transform HLD practices within the framework of our evidence-based audit process.
Commitment to resilience—The HLD task force became a fully chartered HLD committee with a full-time employee hired as committee chair to support the organization's commitment to the HRO goals of quality, safety, and continuous process improvement related to HLD.

These efforts continue to prove successful. After our fourth audit of established processes in September 2018, which included 65 steps across five clinics, our team achieved a 96.9% compliance rate. Today the work of the HLD task force continues, as do our measured successes in safer endoscope reprocessing."
Read the entire article here: Achieving High Reliability in Flexible Endoscope High-Level Disinfection
As the article notes, an effective way to improve endoscope disinfection efficacy is to introduce strong standards and perform occasional audits to make sure employees are following protocols closely. But what happens when no one is watching? Do you trust that all of your employees, when no one is looking over their shoulder, will reprocess scopes properly and never skip any steps? Most facilities still have staff go through their HLD routines based on memorization, but recent technology products have been introduced in recent years to ensure staff follow the same process each and every time – even when no one is watching.
One such product is iRIScope from Mobile Aspects. The way that iRIScope and other systems like it work is to walk staff through the HLD process for each scope in a workflow that matches the hospital's existing standard operating procedures. By using a combination of RFID technology and touchscreen kiosks, staff are guided through the HLD process and are required to log all steps as completed before they can move on to the next step. If a step is missed, a reminder to complete that step is displayed and the missed step is logged in the system. This ensures that no scopes are missing any of the key steps in the HLD process. It also allows managers to properly train their employees by highlighting the employees that are most prone to skipping steps. Using this data helps managers train up their staff efficiently based on analytics coming out of the system, rather than observations noticed only during audits.