How to Track Shared Endoscopes Across Large Health Systems
In many US health systems, endoscopes are stored and shared across several different buildings and campuses due to the sheer number of endoscopes required to treat both routine and specialty procedures. As a result, many of these shared endoscopes are misplaced or lost, and hundreds of hours are spent monthly trying to track them down, which can lead to delays or even cancellations of procedures.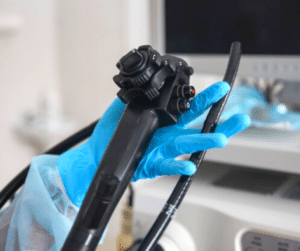 Many hospitals and surgery centers are evaluating technologies that can help track their scopes and automate the documentation of key steps along their usage lifecycle. One such scope tracking system that helps health systems track endoscopes as they travel throughout hospitals is iRIScope from Mobile Aspects. This unique endoscope tracking system uses RFID technology and optional RFID-enabled scope storage cabinets to track endoscopes throughout their journey. The software's transfer scope feature allows users to track and instantly see which of their scopes are being loaned from one department or hospital to another along with their current location and status. The feature also helps identify scopes that were lost/misplaced during transfer by showing an in-transit status and how long scopes have been in transit. Alerts can also be set to proactively send notifications to employees when scopes have not been seen in the system in 24 hours, or another customized time period. With these features, health systems can keep an eye on endoscopes as they travel throughout the system and ensure traceability to help track down scopes that are missing.
The software also includes a loaner scope tracking feature that allows users to see a real-time view of which of their current scopes are loaner scopes and how long they have been in their possession. Alerts can be set to remind users when loaner scopes have reached a certain time threshold as a notification that the scope needs to be sent back to the vendor. This can help mitigate surprise bills from vendors for loaners that have been in the hospital's possession for too long.
iRIScope also helps hospitals meet documentation requirements from The Joint Commission (TJC) and other accreditation bureaus, who have cracked down on scope documentation practices in recent years. Utilizing automated data capture techniques, iRIScope helps to document the entire reprocessing cycle for each scope without any manual data entry. The system also captures which scopes are used on which patients in an automated fashion. This ensures that required documentation is recorded without any additional work required from employees, increasing job satisfaction and patient safety.
With the modular design of iRIScope and excellent software tracking support, endoscopes can now be managed within large health systems in a way that matches existing workflows and protocols and can grow and adapt to changing requirements as time passes. This makes sure that any investment in the iRIScope endoscope tracking system will be a profitable and time-saving endeavor. Sign Up for a demo today.