Medicare To Consider Tracking Unique IDs For Medical Implants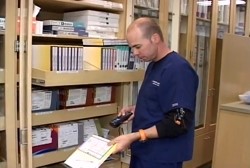 As discussed in a recent article, recalled medical devices continue to be a patient safety and financial concern for hospitals and insurers. A recent study by Medicare estimated that over a 10 year span, they spent over $1.5 billion on surgeries and follow-up for over 73,000 patients implanted with one of seven defective heart devices.  With the findings of the audit now widely publicized, CMS is reviewing whether or not to include a unique 14-digit identifier to hospital billing forms.
Advocates for tracking the unique device identifiers (UDIs) in Medicare billing forms point to the patient safety and financial benefits of tracking UDIs. Those opposed point to the additional burden that would be placed on hospitals and clinicians in order to comply with this potential requirement. As this article by Josh Rising and Ben Moscovitch at The Hill reports:
"Such a move would not only help Medicare track cardiac implants, but also the make and model of millions of medical implants on the market from cataract lenses to hip and knee replacements — especially since joint implantations are the most common hospital procedures performed under Medicare.

The vast majority of medical devices in this country are safe and effective, but when they fail, the consequences can be dire. Some years ago, malfunctioning defibrillator wires gave patients unnecessary, ferocious shocks to the heart. In another incident, metal-on-metal hip joints sent tiny, toxic shards into patients' bloodstreams. Procedures to replace flawed implants often expose patients to further surgical risks and the danger of infection.

For example, as the huge baby-boom population ages, the need for devices that save lives and preserve the independence and quality of life for the elderly, from cardiac stents to replacement knee joints, will only increase. The device code data could track millions of devices over years of use, allowing researchers to tease out trends that could lead to better designs for devices and help doctors and their patients choose the best course of treatment for each individual.

The problem is that although manufacturers began to assign codes to medical implant packages in 2015, there is still no place in the Medicare claims form to record them — an omission that could, and should, be corrected soon.

Prescription drugs are already identified in claims forms, which help researchers analyze the safety of medications. If device identifiers were recorded, those digital records could be found in the insurance databases. Problem devices could be identified and recalled much more quickly to prevent additional harm.

The agency that runs Medicare endorsed adding device identifiers to the claims form more than a year ago, as have an influential board of Medicare advisers and the Food and Drug Administration, the federal agency responsible for ensuring medical device safety. Health plans, hospitals, physicians, and public health advocates also support adding the information. Meanwhile, the public-private committee that recommends revisions to the Medicare claims form is taking comments on its recommendation to add a field for device codes. Once the committee acts, and Medicare adopts the change, it can be put in place.
Read the entire article at: Adding device codes to insurance claims could save lives and billions in taxpayer dollars
It appears that the mandatory tracking of UDIs at the hospital level will come sooner rather than later, even if this particular initiative fails. In order to get your hospital ready for tracking UDIs for each implant used, consider a system like such as iRISupply, which leverages RFID technology to provide a simple, user-friendly way to document UDIs to the electronic medical record and billing systems, immediately find out the recipients of recalled devices, and locate any recalled devices you currently have in stock.