Multiple Studies Point To Steam Sterilization Potential For N95 Masks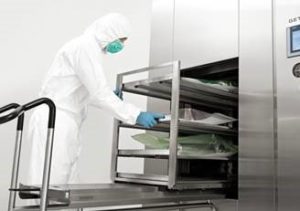 Two recent studies have shown that simple steam sterilization could prove effective at eliminating Covid-19 on personal protective equipment (PPE) worn at hospitals. As many hospitals are facing an extreme shortage of PPE due to the Covid-19 pandemic, this may be a promising development as hospitals continue to prepare for further waves of Covid-19 patients.
The two studies, conducted in China and Houston, TX, showed the promise of steam in PPE sterilization. The studies follow recent guidance from the Centers for Disease Control and Prevention (CDC) that moist heat is a promising Covid-19 decontamination method. This article by Christopher Cheney at Accreditation & Quality Compliance Center details the results of the two studies:
"Chinese steam sanitization study

A research team in China published a study in the Journal of Medical Virology on using steam effectively to sanitize surgical masks and N95 respirators.

The sanitization process, which used avian coronavirus of infectious bronchitis virus to mimic the new coronavirus, was simple. Contaminated masks were placed in plastic bags and steamed over boiling tap water in a kitchen pot.

"The avian coronavirus was completely inactivated after being steamed for 5 minutes," wrote the Chinese researchers, who conducted the study at the College of Veterinary Medicine, Qingdao Agricultural University, Qingdao, China.

The effectiveness of the masks was unaffected by exposure to steam as long as two hours, the Chinese researchers wrote. "In this study, mask decontamination with steam on boiling water is without abrasive physical or chemical action. This can account for its excellent performance in maintaining the masks' blocking efficacy."

In addition to not damaging the masks, the steam treatment has other benefits, they wrote. "This measure has other advantages including safety, not requiring special agents or devices, and rapid inactivation of most microbes potentially attached to the surface of masks."

Houston steam sanitization study

Researchers at Houston Methodist Research Institute in Houston published a steam sanitization study for N95 respirators in the journal Infection Control & Hospital Epidemiology. The study featured five test subjects to verify mask fit after the decontamination process.

The immediate-use steam sterilization (IUSS) procedure was more complex than the Chinese research team's steaming method.

Used N95 respirators were placed in paper-plastic sterilization peel pouches manufactured by Mechanicsville, Virginia-based Medical Action Industries Inc.
The N95 respirators were steamed in a Steris Amsco Evolution HC1500 PreVac Steam Sterilizer autoclave
Chemical and biological indicators were used to ensure there was no contamination after the steaming procedure

The N95 respirators were not damaged in the steam sterilization procedure, the Houston-based researchers wrote. "Five test subjects were used to begin to account for individual differences between faces. For each subject, a fit test was performed before the IUSS cycle to serve as a control value. Fit tests were performed after three IUSS. In all cases, masks retained their structural integrity and efficacy."
Read the full article here: Coronavirus: Studies find steam effective in sterilizing used medical masks
In order to effectively track sterilized N95 masks and other personal protective equipment (PPE) and stay within usage limits, hospitals and health systems must have the proper protocols and tracking mechanisms in place. Mobile Aspects has developed a unique software tracking system to address this specific challenge. The system works by tracking the number of uses of each piece of PPE using RFID technology to track usage counts at the item level. Whenever an item reaches its usage limit, users will immediately be notified to discard the item. If anyone tries to use PPE past its usage limits, alerts will go out so that the user can be notified. And if anyone is in possession of multiple pieces of in-demand PPE, administrators will be notified so they can instruct the employee to return their excess PPE. With this system in place, hospitals and healthcare systems can be assured that sterilized PPE is being used only as recommended, no more and no less.
If your facility is exploring ways to track sterilized PPE, contact Mobile Aspects to find out more about its innovative new software.