Pittsburgh-Based Healthcare System Announces Program To Support N95 Mask Sterilization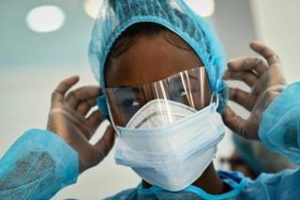 Allegheny Health Network (AHN), an integrated healthcare delivery system based in Western Pennsylvania, announced that it has begun sterilizing N95 masks so they can be worn multiple times by hospital workers. As hospitals are facing an extreme shortage of PPE due to the Covid-19 pandemic, many are now implementing systems that will help them reprocess certain items for multiple uses in order to alleviate their supply problems.
AHN announced that it began sterilizing N95 masks for re-use at nine of its surgical hospitals. The hope is to extend the life of each mask for as long as there is a shortage of critical PPE. As this press release explains:
"With masks and other kinds of personal protective equipment in short supply, AHN and Highmark Health have been working tirelessly to ensure that our patients are safe and that our clinical employees always have the protective equipment they need," said Sricharan Chalikonda, MD, Chief Medical Operations Officer, AHN. "Sometimes, that means finding new sources for those products. In this case, we have developed an outside-of-the-box approach to make more efficient use of the products we already have on hand."

Normally, disposable masks such as N-95s are not permitted to be reused. But because of an ongoing supply shortage driven by the worldwide COVID-19 pandemic, the FDA is temporarily authorizing health care providers to sterilize masks for re-use with in-house sterilization equipment that is typically used to sterilize and decontaminate surgical tools and other health care instrumentation.

But with AHN and most other health systems postponing elective surgeries, those machines are now available for other uses. AHN's perioperative surgical team and its nursing staff spent the last week designing and implementing a system that would allow the masks to be collected, brought to the hospitals' central sterilization departments, and redistributed.

"Re-using the N95 respirators produces a number of benefits," said Hope Waltenbaugh, MSN, RN, AHN's vice president of surgical services.

"First and foremost, it prolongs the life of our masks and helps to ensure that our front-line caregivers are always protected. It also cuts down on hospital waste, and potentially opens the door to sterilizing and re-processing other types of masks, or other forms of personal protective equipment."

N95 respirator masks are different than surgical "ear loop" masks; they are tight-fitting devices that reduce the wearer's exposure to airborne particles, including large droplets and aerosolized particles. They are used in environments where there is high risk of exposure to airborne agents, and are critical resources for health care workers who are treating or collecting samples from COVID-19 patients.

Once used masks have been delivered to the hospital's central sterilization department, they'll be inspected for wear and tear, elastic damage, stains, makeup, or any other imperfection. Damaged masks will be discarded.

Masks that are selected for reuse will then be sealed into sterilizing peel-pack envelopes and loaded into the sterilization machine, which can accommodate up to 40 masks per load. Before the masks are sterilized, they will be tagged with a tape strip, to mark it as a recycled mask.

The N95 masks can be recycled twice before being discarded. AHN hopes that it will eventually be able to recycle more than 80 percent of its N95 masks.

Each load takes about 45 minutes to complete, and each machine can sterilize about 15 loads per day, using hydrogen peroxide vapor. Previous studies conducted by Duke University and others have demonstrated that N95 respirators still meet performance requirements even after 50 decontaminations with this process.

Allegheny General Hospital and West Penn Hospital will have two mask-sterilizing machines on site; the rest of AHN's hospitals will have one. At full capacity, machines across the network could collectively recycle more than 6,000 masks per day, with the help of AHN's central sterilization technicians."
Read the full press release here: Allegheny Health Network Launches Mask Sterilization and Re-use Program to Support COVID-19 Pandemic Response Efforts
In order to effectively track sterilized PPE and stay within usage limits, hospitals and health systems must have the proper protocols and tracking mechanisms in place. Mobile Aspects has developed a unique software tracking system to address this specific challenge. The system works by tracking the number of uses of each piece of PPE using RFID technology to track usage counts at the item level. Whenever an item reaches its usage limit, users will immediately be notified to discard the item. If anyone tries to use PPE past its usage limits, alerts will go out so that the user can be notified. And if anyone is in possession of multiple pieces of in-demand PPE, administrators will be notified so they can instruct the employee to return their excess PPE. With this system in place, hospitals and healthcare systems can be assured that sterilized PPE is being used only as recommended, no more and no less.
If your facility is exploring ways to track sterilized PPE, contact Mobile Aspects to find out more about its innovative new software.