Texas Health System Successfully Reprocesses N95 Masks Using Hydrogen Peroxide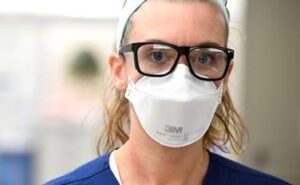 With the US projected to continue to have a shortage of N95 masks for the duration of the Covid-19 pandemic, several hospitals are testing various methods of sterilizing masks to enable multiple uses. Researchers at the Memorial Hermann – Texas Medical Center in Houston recently oversaw a series of tests where N95 masks were reprocessed using hydrogen peroxide vapor (HPV).
In the study, the researchers first established a pilot using various N95 masks to test the validity of the HPV sterilization method. The researchers then established protocols for recapturing, reprocessing and redistributing masks across the health system. As the study published in the American Journal of Infection Control explains:
"The recapturing phase encompasses collection of N95 masks after use for return to the reprocessing location, the reprocessing phase encompasses the Bioquell decontamination, and the return phase is the process of returning masks to central supply or the original uses. These three phases constitute one cycle of N95 salvaging.

…Overall recapture rate [of masks] is approximately 86%. Most common reasons for not returning were inconvenient location of return bins. This has been addressed with smaller bins placed outside patients' rooms and throughout the units

Results

Recapture Outcomes

Across all the hospitals within the system, total count of reprocessing cycles as counted by discrete number of reprocessed masks, is 45,554. Approximately 25% (average over multiple cycles) are soiled or damaged after visual inspection. Soiled masks are primarily due to staining with make-up. The communication department developed a "Bare to Spare" campaign which encouraged no make-up use below the eyes. Make-up remover wipes are also now included in the bag containing the N95.

Return Outcomes

Across the hospital system, 34,125 masks have been returned for reuse. At our campus, 8,995 masks have been returned to central supply to be allocated for reuse.

Cost and savings

Reprocessing cost per mask is approximately $1.47. The cost decreases as volume of masks to be reprocessed increases and at capacity would be 0.57-0.61 cents per mask. Commercial companies are now offering a similar service and cost to send masks out for reprocessing averages $1.65-$3.25 per mask. Cost savings for in house processing versus send out calculated by the numbers of masks reprocessed to date is $8,200 – 81,000.

Conclusion

Our study is the first to use HPV technology on a large scale to reprocess N95s within a healthcare system. Previous studies have reported this method of reprocessing on a smaller scale with similar results. Commercial companies are now offering HPV services for N95 masks. Hospitals must ship the masks to the company and then wait for mask return. Having the ability to reprocess masks within our facility allows us to return masks back in to circulation more rapidly. The success of the program hinged on collaboration across multiple hospital departments, and is an example of the collaboration needed to respond to an ever-changing environment. The SARS-CoV2 pandemic has created unprecedented challenges to the healthcare system which can only be overcome with unique and innovative solutions."
Read the full study here: Reprocessing N95s with Hydrogen peroxide vaporization: A robust system from collection to dispensing
For hospitals considering a process to decontaminate PPE to allow for multiple uses during the pandemic, they must have a reliable system in place to make sure they get maximum use out of the PPE without exceeding their internal reprocessing limits. Hospitals should also ensure that employees are only able to check out one mask at a time to ensure an adequate supply for all frontline workers. Mobile Aspects is working with select healthcare systems on a novel tracking system to track PPE including N95 masks to make sure that maximum usage is reached without exceeding published guidelines. Contact us via our website to find out more.