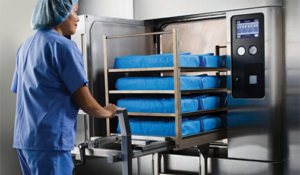 The United States Food and Drug Administration (FDA) has issued an emergency order that allows hospitals and health systems to decontaminate N95 respirator masks up to 10 times before they are to be disposed. As hospitals are facing an extreme shortage of PPE due to the Covid-19 pandemic, this will be a welcome piece of news as hospitals continue to prepare for further waves of Covid-19 patients.
The FDA believes that as many as 4 million masks can be decontaminated and re-used daily in the US under this emergency order. The emergency use authorization (EUA) was issued to Steris, which believes its sterilization systems can be effectively used to re-process N95 and similar masks for re-use. This article by Brian Ward at Accreditation & Quality Compliance Center further explains:
"Authorizing this sterilization system will make it easier for hospitals to ensure that heroic healthcare workers on the frontlines have the protection they need," wrote HHS Secretary Alex Azar. "Thanks to rapid work by the men and women of the FDA and President Trump's vision for an all-of-America response, innovators are giving our healthcare warriors new tools nearly every day to fight the COVID-19 pandemic."

The process has N95 masks placed in a room, sprayed with vaporized hydrogen peroxide using a special machine, and left to dry. A mask can be reprocessed up to 10 times for single-user reuse. Studies have demonstrated that this method:

Decontaminates the mask material
Doesn't degrade the mask material's ability to filter particulates
Doesn't affect mask fit
Doesn't create any toxic byproducts

EUAs were issued to Battelle Memorial Institute and STERIS. The latter sells the hydrogen peroxide sterilizing equipment, with units 6,300 healthcare facilities equipped STERIS decontamination units. Depending on the unit, it can take between 24 and 55 minutes per reprocessed mask, with a single unit reprocessing about 480 respirators daily."
Read the full article here: FDA Says 4 Million N95 Masks Could Be Reused Thanks To Emergency Order
In order to effectively track sterilized N95 masks and other personal protective equipment (PPE) and stay within usage limits, hospitals and health systems must have the proper protocols and tracking mechanisms in place. Mobile Aspects has developed a unique software tracking system to address this specific challenge. The system works by tracking the number of uses of each piece of PPE using RFID technology to track usage counts at the item level. Whenever an item reaches its usage limit, users will immediately be notified to discard the item. If anyone tries to use PPE past its usage limits, alerts will go out so that the user can be notified. And if anyone is in possession of multiple pieces of in-demand PPE, administrators will be notified so they can instruct the employee to return their excess PPE. With this system in place, hospitals and healthcare systems can be assured that sterilized PPE is being used only as recommended, no more and no less.
If your facility is exploring ways to track sterilized PPE, contact Mobile Aspects to find out more about its innovative new software.