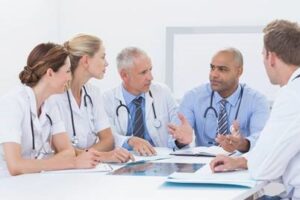 The Joint Commission (TJC) recently received approval from the Centers for Medicare and Medicaid Services (CMS) to continue on as an Accrediting Organization (AO) for a period of two years. This comes as a blow to TJC, as CMS had previously approved them as an AO for a 6 year term in 2014.
TJC has been under increased scrutiny in recent years as government organizations have become weary of the potential conflict of interest inherent to AOs such as TJC. These organizations typically have an accrediting arm and a consulting arm that may have interconnected businesses, drawing the ire of US Congress and the White House Office of Management & Budget (OMB). As this article from AJ Plunkett at Health Leaders Media reports:
"In a special filing in the July 15, 2020, Federal Register, CMS published a notice that TJC had been approved as a hospital AO through July 15, 2022.

The federal announcement made note that the approval was only two years, instead of the six years maximum allowed by regulation.

"This shorter term of approval is based on our concerns related to the comparability of TJC's survey processes to those of CMS, as well as what CMS has observed of TJC's performance on the survey observation. Some of these concerns stem from the level of detail TJC provides in the daily briefings it provides to facilities, as well as TJC's processes surrounding its staff interview practices. Additionally, we are concerned about TJC's review of medical records and surveying off-site locations, in particular for the Physical Environment Condition of Participation (CoP)," said CMS.

In the last few months, TJC has revised or expanded standards to meet CMS demands. Among other things, according to the notice, TJC also revised surveyor training and required the AO to provide more information to hospitals during the survey's daily briefing.

CMS said it remains "concerned about the thoroughness of review conducted within the facilities." The agency acknowledged all the changes TJC has made, but "we will continue ongoing review of TJC's survey processes across all their approved accrediting programs to ensure that all our recommended changes have been implemented. In keeping with CMS's initiative to increase AO oversight, and ensure that our requested revisions by TJC are complied with, CMS expects more frequent review of TJC's activities to avoid any continued inconsistencies."
Read the entire article here: TJC Approved as Hospital AO for Only Two Years This Time
All signs point to the TJC becoming tougher in its accreditation surveys in the near future. Previous minor citations could turn into major ones, and major citations could turn into accreditation denials. As TJC looks to get back on the good side of the CMS during its 2 year approval period, TJC is bound to scrutinize hospitals closer than ever. Is your hospital ready? To prepare, hospitals have to make sure that they are following all of their detailed processes all of the time – and have the documentation to prove it. Consider automation tools that help track the processes that TJC and other accreditation agencies focus on during their inspections. Systems such as iRIScope and iRISecure have been developed to ensure that processes and protocols are being followed automatically since your managers can't watch over every step of the way.