Expensive Medical Supplies Stolen From Hospitals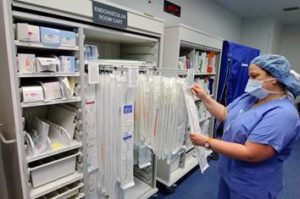 A medical supply rep from Maryland was recently charged in the theft of expensive medical kits from area hospitals that he later sold on eBay.  Each of the medical kits were sold for approximately $33,000 each, netting the man nearly $200,000.



As this article from The Washington Post explains:
"Burke Slater, 52, of Gaithersburg, was arrested and charged with several felony charges after Fairfax County Police alleged he stole five kits from INOVA Mount Vernon Hospital in Alexandria and two from a hospital in Maryland, which was not named.

Slater worked as a vendor of medical supplies and had access to operating rooms, according to police.

Fairfax County Police said they launched an investigation after a medical supplier in Florida found some kits on eBay and checked the serial numbers. That showed the equipment was registered to Inova in Alexandria.

Police found that seven medical kits, each valued at $33,000, had been stolen. Officials said detectives found six of the kits that had been sold in states including Florida, New Jersey, Pennsylvania and Washington. Police said none of the customers knew the items were stolen when they bought them.

Slater surrendered to police on Wednesday and faced charges of grand larceny, money laundering and other charges, according to police. He was released on bond."
Read the entire article here: Maryland vendor stole expensive medical kits from hospitals to sell on eBay, police say
The issue, which has been experienced before by many hospitals in the US, continues to highlight the need for hospitals to increase security on their expensive medical supplies and devices.  With the possibility of theft very real given the number of individuals with access to medical supplies, hospitals can turn to high-security medical supply inventory management systems such as those from Mobile Aspects. These high-security options include locking doors, RFID technology and secure badge access to ensure that only the people that should be touching their expensive supplies are able to.