Fitch Ratings Foresees Dark Days Ahead For Hospitals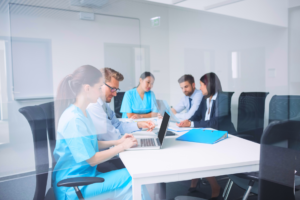 Covid-19's recent resurgence is straining already struggling hospitals that were showing recovery signs in the 3rd quarter of 2020. With the increasing infection rates of Covid-19 around the country during the holiday season, a combination of voluntary and forced reductions of elective procedures is negatively impacting hospitals' bottom line.
Hospital operating margins suffered severely during the early days of the pandemic when outbreaks were raging unchecked and much was unknown about the virus. During the summer and early fall of 2020, hospital volumes picked up and nearly reached pre-pandemic levels. However, the recent surge in Covid-19 cases in the US is making it harder for hospitals to make ends meet. Fitch Ratings, the credit rating and financial analysis company, recently discussed its thoughts about the not-for-profit hospital industry as this article by John Commins at HealthLeaders Media explains:
"The ongoing pandemic-related public health emergency prompted a shutdown of money-making elective procedures in 2020 for hospitals, Fitch said, and the latest, soaring wave of COVID-19 cases suggest that elective procedures may continue to be restricted in 2021.

"Elective procedures, even at a reduced clip, should not hit hospitals as hard financially as the nationwide shutdown that cut top line revenues by around 40% in Spring of 2020," said Fitch Senior Director Kevin Holloran.

Holloran noted that hospitals are better prepared for this latest wave of COVID-19 hospitalizations than they were during when the first wave of cases struck last spring.

Because of that, going forward, elective procedures may again be limited in some regions, but not to the extent seen last spring, when hospitals nationwide shut down elective procedures.

"It's a case of 'been there, done that' in a sense with hospitals treating COVID-19 patients more efficiently, which is leading to shorter hospital stays," said Holloran.

However, Holloran said hospitals will face continued financial stress in the first half of 2021, until vaccines are widely available.

Hospitals also will face rising operating expenses in 2021 related to the pandemic.

"Providers will need to secure a mini-stockpile of ventilators, masks, gowns, drugs and certain types of beds, though adequate staffing will be the most critical component," Holloran said."
Read entire article here: Fitch Ratings Predicts Rough Times Ahead for NFP Hospitals
Hospitals continue to look for ways to bolster operating margins during the pandemic, and one area that is ripe for extreme waste reduction is supply management. Supplies are the second highest expense bucket for hospitals after labor – and are increasing dramatically during Covid-19's surge. At many hospitals, supplies are managed with inefficient processes and outdated technologies. Across a large hospital or a health system, these inefficiencies can result in tens of millions of dollars in waste each year. The waste can come from several factors including overstocked inventories, losses from product expirations, missed charge capture and labor inefficiencies, which combined can exceed 8 figures in losses for larger healthcare providers.
Implementing an enterprise-wide supply tracking system is one move large hospitals and health systems can make to improve their finances while standardizing processes and data. If your hospital or health system is currently losing money from poor management of its supplies and implants, consider a system such as iRISupply. The system uses RFID technology to keep a perpetually accurate count of inventory and captures patient to supply association right at the point of dispensing from the cabinet. The smart cabinets, when combined with interfaces to the electronic medical record (EMR) and materials management system, greatly reduce the documentation burden on clinicians while improving data flow throughout the hospital or health system. Additionally, the system's powerful, built-in analytics allow for continuous improvement by providing real-time statistics about your inventory. For example, you can identify slow-moving or unused items that may need adjustments, leading to a more efficient and profitable operation.