Expect More Virtual Accreditation Surveys As Pandemic Rages On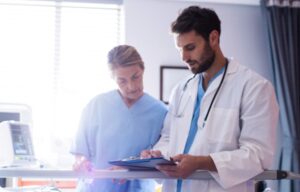 As DNV GL Healthcare (DNV), The Joint Commission (TJC) and other accreditation organizations continue to utilize virtual surveys in the wake of the Covid-19 pandemic, many hospitals are scrambling to prepare their documentation for virtual audits. These accreditation visits are crucial to hospitals that require successful surveys in order to receive funds from the Centers for Medicare and Medicaid Services (CMS), a major source of revenue for almost every hospital.



Due to the impacts of Covid-19 on hospital staff, DNV, TJC and other accreditation firms are incorporating physical distancing measures and some remote working technologies into their process. Now, CMS has approved DNV to conduct entire accreditation surveys remotely during the pandemic. As this article from Accreditation & Quality Compliance Center by AJ Plunkett reported:
"DNV GL Healthcare just announced that CMS is now allowing it to conduct full, deemed, reaccreditation surveys remotely, under certain conditions.

In general, those conditions include that the hospital must be located in an area where the safety threat level from the COVID-19 public health emergency (PHE) is still high or medium, has had few or no infection control deficiencies during its last two surveys, has no condition-level deficiencies nor immediate jeopardy situations, and no outstanding ligature risk problems.

DNV is also required to do another full reaccreditation survey onsite within nine months of the end of the PHE, said the announcement.

Expect The Joint Commission (TJC) and HFAP to follow suit as they work out details with CMS.

…Since the beginning of summer DNV, like CMS and the other accreditation organizations (AO), has been conducting initial accreditation surveys remotely to broaden hospital capacity and meet the demand for inpatient beds during the COVID-19 pandemic.

CMS later allowed AOs to begin resolving outstanding hospital deficiencies found before the PHE, primarily involving a "desk review" that could also be done remotely.

However, full triennial surveys for reaccreditation still had to be done on site, if they could be done safely.

While TJC and others reported making several hundred on-site surveys by the end of summer, COVID cases began to increase again in many regions.

Discussions were underway earlier this fall between CMS and the AOs on when or how to resume full reaccreditation surveys.

While CMS requires all AOs to do full reaccreditation surveys every three years, DNV's accreditation model is closely linked to ISO 9000 quality standards and therefore they are on site annually.

DNV's announcement noted that it has been conducting these annual surveys when possible, if the hospital was not swamped with COVID patients.

"DNV GL currently conducts annual/periodic surveys in accredited facilities remotely using videoconferencing and other secure remote surveying tools and techniques. These surveys have been well-received by our hospitals and have been effective at assessing continued compliance with accreditation and certification requirements," said the announcement.

"Where non-conformance is found, corrective actions are required following established procedures and timelines. DNV GL will continue to conduct these surveys remotely in 2021 as we continually assess the impact of COVID-19 and the PHE and adhere to CMS guidance."
The announcement also noted that CMS had allowed initial accreditation surveys to be conducted remotely, and that CMS expected DNV – like the other AOs – to "repeat the full survey on site, with the full complement of surveyors and survey time, when it is safe to travel and survey. Recent procedural guidance from CMS requires this repeat on site accreditation survey to be completed within 9 months of the end of the PHE," according to DNV."
Read the entire article here: DNV GL says CMS Oks some accreditation surveys remotely
As accreditation surveys go fully remote, additional scrutiny will be placed on electronic documentation around patient safety collected by hospitals. Is your hospital ready to share electronic documentation, such as tracer logs, with DNV, TJC and the other accreditation organizations? To prepare, hospitals have to make sure that they are following all of their detailed processes all of the time. Any breakdown in your processes would show in the documentation, putting your hospital's reputation and finances at risk. Consider automation tools that help track the processes that DNV, TJC and other accreditation agencies focus on during their inspections. Systems such as iRIScope and iRISecure have been developed to ensure that processes and protocols are being followed with Endoscope and Tissue documentation, respectively, since your managers can't watch over every step of the way.