Hospitals Are Being Penalized By CMS For Hospital Acquired Infections – How Can They Stop The Bleeding?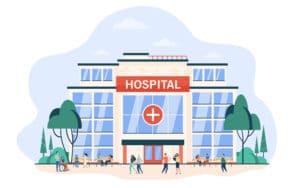 The Centers for Medicare and Medicaid Services (CMS) has released its list of penalized hospitals for 2021 under its Hospital-Acquired Conditions Reduction Program. This year's list includes 774 hospitals that will have their Medicare payments cut by 1% for the remainder of the year. The 774 hospitals represent the bottom quartile of hospitals in terms of hospital-acquired infections.
A hospital's rating is based on several quality measures such as rates of infection, blood clots, bedsores, and other complications. Despite industry concerns about the program's design, there doesn't appear to be any end in sight to the annual penalty. As this article by Jordan Rau at KHN explains:
"The penalties, based on patients who stayed in the hospitals anytime between mid-2017 and 2019, before the pandemic, are not related to covid-19. They were levied under a program created by the Affordable Care Act that uses the threat of losing Medicare money to motivate hospitals to protect patients from harm.




On any given day, one in every 31 hospital patients has an infection that was contracted during their stay, according to the Centers for Disease Control and Prevention. Infections and other complications can prolong hospital stays, complicate treatments and, in the worst instances, kill patients.

"Although significant progress has been made in preventing some healthcare-associated infection types, there is much more work to be done," the CDC says.

Now in its seventh year, the Hospital-Acquired Condition Reduction Program has been greeted with disapproval and resignation by hospitals, which argue that penalties are meted out arbitrarily. Under the law, Medicare each year must punish the quarter of general care hospitals with the highest rates of patient safety issues. The government assesses the rates of infections, blood clots, sepsis cases, bedsores, hip fractures and other complications that occur in hospitals and might have been prevented. The total penalty amount is based on how much Medicare pays each hospital during the federal fiscal year — from last October through September.

Hospitals can be punished even if they have improved over past years — and some have. At times, the difference in infection and complication rates between the hospitals that get punished and those that escape punishment is negligible, but the requirement to penalize one-quarter of hospitals is unbending under the law. Akin Demehin, director of policy at the American Hospital Association, said the penalties were "a game of chance" based on "badly flawed" measures.

Some hospitals insist they received penalties because they were more thorough than others in finding and reporting infections and other complications to the federal Centers for Medicare & Medicaid Services and the CDC.

"The all-or-none penalty is unlike any other in Medicare's programs," said Dr. Karl Bilimoria, vice president for quality at Northwestern Medicine, whose flagship Northwestern Memorial Hospital in Chicago was penalized this year. He said Northwestern takes the penalty seriously because of the amount of money at stake, "but, at the same time, we know that we will have some trouble with some of the measures because we do a really good job identifying" complications.

Other renowned hospitals penalized this year include Ronald Reagan UCLA Medical Center and Cedars-Sinai Medical Center in Los Angeles; UCSF Medical Center in San Francisco; Beth Israel Deaconess Medical Center and Tufts Medical Center in Boston; NewYork-Presbyterian Hospital in New York; UPMC Presbyterian Shadyside in Pittsburgh; and Vanderbilt University Medical Center in Nashville, Tennessee.

…Boston's Beth Israel Deaconess said in a statement that "we employ a broad range of patient care quality efforts and use reports such as those from the Centers for Medicare & Medicaid Services to identify and address opportunities for improvement."

UCSF Health said its hospital has made "significant improvements" since the period Medicare measured in assessing the penalty.

"UCSF Health believes that many of the measures listed in the report are meaningful to patients, and are also valid standards for health systems to improve upon," the hospital-health system said in a statement to KHN. "Some of the categories, however, are not risk-adjusted, which results in misleading and inaccurate comparisons."

Cedars-Sinai said the penalty program disproportionally punishes academic medical centers due to the "high acuity and complexity" of their patients, details that aren't captured in the Medicare billing data.

"These claims data were not designed for this purpose and are typically not specific enough to reflect the nuances of complex clinical care," the hospital said. "Cedars-Sinai continually tracks and monitors rates of complications and infections, and updates processes to improve the care we deliver to our patients.""
Read the entire article here: Medicare Cuts Payment to 774 Hospitals Over Patient Complications
Many hospitals across the US, even some of the most prestigious, must continue to focus on reducing hospital acquired infections (HAIs) to improve patient safety and to increase their bottom line. Hospitals must ensure staff are trained on general infection control principles and they must be prepared to constantly monitor and improve their practices. To ensure that your staff is following best practices surrounding HAIs, install additional checks and balances into your workflow so that you can document that your staff is following the same process each time. Software systems such as iRIScope for endoscope reprocessing and iRISecure for tissue documentation have been introduced in recent years to help hospitals and surgery centers ensure that each of their assets and biologics are handled the same way each time using advanced RFID technology. With these systems in place, staff can be more confident that their close adherence to best practices will result in a reduction in HAIs across the hospital.