Studies Show That US Clinicians Spend More Time In EHRs Than Clinicians In Other Countries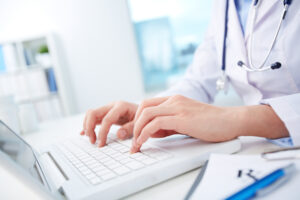 A pair of recent studies highlighted the extraordinary amount of time that US clinicians spend documenting their encounters in electronic health records (EHRs). While previous studies have looked at the general amount of time that clinicians spend documenting in EHRs, these particular studies looked at the gap between US-based clinicians and clinicians based in other countries.
EHRs have proven their substantial value over prior paper-based records, but many doctors and nurses have pointed out that too much time is spent on their computers instead of interacting with their patients. While hospitals can't reduce the requirements around EHR documentation, they do have the ability to automate more of the data input to reduce the time spent documenting each patient encounter. As this article at Healthcare IT News by Kat Jercich discusses:
"The JAMA study, which compared metadata of clinicians in the United States with those in Canada, Northern Europe, Western Europe, the Middle East and Oceania, found that U.S. clinicians spent an average of 90 minutes a day actively using the EHR – compared with non-U.S. clinicians, who spent about an hour a day in their EHRs.

Meanwhile, the Medical Care study analyzed primary care exam lengths using EHR time stamps, finding that the average exam time lasted 1.2 minutes longer than scheduled.

The findings for both studies suggest inefficiencies, both in terms of scheduling logistics and within the EHR itself.

"Time-stamped EHR data offer researchers and health systems an opportunity to measure exam length and other objects of interest related to time," wrote the researchers in the Medical Care study.

WHY IT MATTERS

For the JAMA article, researchers from Harvard and Stanford University analyzed the deidentified Epic Systems metadata of 371 ambulatory care health systems around the world.

The sample included all clinicians with scheduled patient appointments, including physicians and advanced practice practitioners.

The study found that U.S. clinicians spent significantly more time than those not in the United States performing four clinical activities: notes, orders, in-basket messages and clinical review.

U.S. clinicians composed more automated note text and received an average of 34 messages a day, compared with the non-U.S. clinicians' 13.

"Furthermore, U.S. clinicians used the EHR for a longer time after hours, logging in 26.5 minutes per day vs. 19.5 minutes per day for non-U.S. clinicians," wrote the researchers.

But how do all those minutes in the EHR translate to time spent with patients? The Medical Care article offers some insight.

In that study, led by researchers from the University of Minnesota, the Urban Institute and the EHR vendor athenahealth, the team calculated exam length and schedule deviations of 21 million primary care visits in 2017.

The team found that the average primary care exam was 18 minutes, and that visits scheduled for 10 or 15 minutes were more likely to exceed their allotted time than those scheduled for 20 or 30 minutes.

…"This study found that U.S. clinicians compared with their non-U.S. counterparts spent substantially more time actively using the EHR for a wide range of clinical activities or tasks," wrote the JAMA study researchers.

"This finding suggests that U.S. clinicians have a greater EHR burden that may be associated with nontechnical factors, which policymakers and health system leaders should consider when addressing clinician wellness," they continued."
Read the entire article here: U.S. clinicians spend 50% more time in EHR than those in other countries
As studies show that clinicians in the US are required to spend too much time documenting their work in EHRs, hospital administrators must find creative ways to reduce their burden. EHRs are not going away any time soon due to the wealth of data they create and store, so new avenues should be explored to increase documentation efficiency. One way to do this is to eliminate redundant data-entry tasks in EHRs. For example, natural language processing tools can help turn transcription data into notes that need to be only verified instead of typed in from scratch.  Another avenue is automated data capture systems, such as iRISupply. Systems like these provide high-quality data by integrating RFID data capture technology directly into your EHR, eliminating the need to have clinicians manually enter supply and implant information into the EHR during hectic procedures.