Oregon Health & Science University Implements Endoscope Tracking Software As An Investment In Patient Safety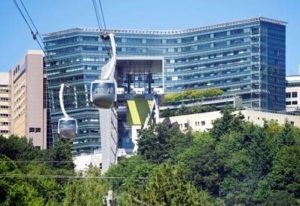 Oregon Health & Science University (OHSU) implemented the iRIScope endoscope tracking system from Mobile Aspects to help automate the documentation of reprocessing and storage practices for endoscopes in its new Center for Health & Healing Building 2(CHH2).
As the only academic health center in the state, OHSU is where personalized patient care is combined with the latest treatments and therapies to deliver a quality of healthcare not available anywhere else in Oregon. Nationally, OHSU is the only health system in Oregon to be recognized in US News and World Report's Best Hospitals list. The academic medical center is on the verge of opening its new, state-of-the-art CHH2 building. The new 15 story facility hosts an ambulatory hospital and research building.
Mobile Aspects was approached by OHSU to help address specific workflow and traceability challenges that the new CHH2 building would bring to the Endoscopy department.
Stepping Up to the Challenge
OHSU identified a need to ensure all infection control protocols for flexible endoscopes are adhered to closely in their new CHH2 Building. This new health care facility offers complex surgery and interventional procedures as well as clinical space for the Knight Cancer Institute and clinical space for the Digestive Health Center and Perioperative Medicine Clinic. Adding to the infection control challenge is the fact that space constraints forced OHSU to centralize scope reprocessing in the Sterile Processing department one floor above the new GI procedural unit. Many regulations surround the handling and cleaning protocols for flexible endoscopes, which become very difficult to manage when you add in to the mix moving them from floor to floor and from one group of technicians to another. OHSU needed a way to ensure each necessary step of the endoscope lifecycle was followed, tracked, reported on and (if necessary) alerted should a breach in protocol occur.
"Our new CHH2 building presented us with challenges that required us to evaluate several potential solutions from the ground up. With the loss of the direct visualization of the endoscope cleaning process, we quickly identified a need to use technology to help us manage and track our scopes effectively," said Lisa Newman, Nurse Manager of the Endoscopy Unit at the Portland-based hospital.
The sheer size of the new space, and the reality that scopes would be reprocessed on a different floor than the procedure rooms, made solving infection control issues for endoscopes a challenge. OHSU has partnered with Mobile Aspects to adapt its iRIScope endoscope management system to the CHH2 environment. The goal of working with Mobile Aspects and iRIScope is to minimize any potential breaches in endoscope reprocessing protocol and to enable immediate notifications should a breach occur.
A Collaborative Approach To Ensuring Automation Success
OHSU's Endoscopy staff worked closely with Mobile Aspects staff to identify key steps of the scope management workflows that they wanted to be tracked. With scope utilization and reprocessing in CHH2 spread across multiple floors, one of the key infection control protocols most at risk was the time requirement for used scopes to return to the Sterile Processing Department for reprocessing. Mobile Aspects was able to tailor the workflows in iRIScope to match OHSU's standard operating procedures. With this intelligence embedded in the software, iRIScope can help ensure OHSU's adherence to its infection control protocols around time requirements for the reprocessing cycle to begin after each procedure.
Another new requirement introduced by the CHH2 building was the need to ensure endoscopes are transported in an efficient manner between the two floors where endoscopes are used and reprocessed. The timely reprocessing of endoscopes in this multiple floor layout requires scopes to be quickly loaded and unloaded onto elevators as they're being transported between floors. iRIScope was programmed to record scopes that are being loaded on an elevator so that technicians can be made aware of scopes arriving on their floor in real-time to minimize delays in the reprocessing cycle.
Several other steps of the reprocessing cycle, such as manual cleaning, leak tests and Automated Endoscope Reprocessor transactions, are also being tracked in iRIScope. With this tracking in place, artificial intelligence within the software can detect if any steps of a reprocessing cycle are skipped in real-time.
"The Mobile Aspects implementation team were able to build, test and implement all the specific changes we asked for in a timely manner.  They were onsite for go-live and continued to make improvements to the system post go-live," added Lisa Newman. "They have worked closely with our team to identify the places where we anticipate challenges in following our protocols and have put checks in the software to make sure we're made aware of any breaches in real-time."
Real-Time Alerts and Notifications
With artificial intelligence within iRIScope constantly monitoring endoscopes and their path along their usage lifecycle, several real-time alerts and notifications have been enabled to alert staff and eliminate any breaches of infection control protocols. For example, if the time limit to get from the bedside to Sterile Processing exceeds the internal limit for any scopes, staff are immediately notified so that they can remediate the situation per hospital protocols.
Endoscopes are also constantly being monitored by the software to ensure that they undergo all key steps of reprocessing before being returned to iRIScope's clean storage cabinets. If any endoscope is returned to clean storage without successfully completing all key steps of the reprocessing cycle, real-time email alerts are sent to notify administrators of the scopes and their location so they can be reprocessed again as required by their infection control protocols.
iRIScope has also been integrated with one of the hospital's internal communication systems to allow for immediate action by certain team members. For the notifications to technicians that endoscopes are ready for pick-up in the elevators, iRIScope sends alerts through the hospital's Vocera pagers so that staff can react efficiently and continue the reprocessing cycle.
Ready To Launch
With iRIScope in place, OHSU has a system that will change as endoscope reprocessing protocols change. Any updates to infection control procedures can be mirrored within iRIScope to ensure that they are always tracking and adhering to their standard operating procedures. Additionally, the wealth of data that iRIScope collects will allow OHSU's GI department to optimize its business operations. They will have data showing them which scope models are most and least used so they can re-balance their scope inventory as needed. They will also know which endoscopes are most often sent for repair so that they can put in procedures to reduce costly damages. Perhaps most importantly, they can track how efficiently each step of the reprocessing cycle is being completed so they can work to reduce bottlenecks and identify specific individuals who may need more training.
OHSU is pleased with the implementation of a technology which provides useful data on an essential function of their new Endoscopy Unit – flexible endoscope cleaning. "I think it is important that we don't just track scope location, but also how we are doing with the cleaning process. By having real-time alerts to a breach in standard protocols we can remove that scope from service before it touches a patient," said Lisa Newman. "With all of the complexity that is inherent to the endoscope reprocessing cycle, using a sophisticated tool like IRIScope will help us keep up with the ever-changing procedures and protocols and to ensure our scopes are being reprocessed properly every single time so that we can keep our patients safe. The bottom line is that it's an investment in patient safety."