Meeting Joint Commission Tissue Tracking Requirements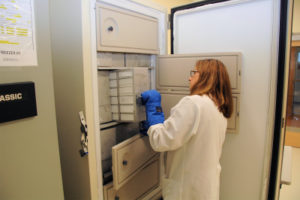 Creating safe, efficient and accurate tissue management processes has become a top priority for PeriOperative departments across the country. Regulatory requirements designed to protect patients continue to evolve and expand with the growth of tissue usage and advances in surgical life-saving and life-enhancing procedures.
Approximately 1.75 million people are currently receiving tissue implants annually just in the US. To deal with the rising concern over patient safety and tissue traceability, several organizations have created regulatory requirements specific to the process.
3 Tissue Tracking Pain Points for Surgical Operating Room Managers
Each staff member who has come into contact with each tissue needs to be tracked and documented.
In order to comply with regulatory site visits, The Joint Commission-specific reports or logs must be maintained and be readily accessible.
Paper based tissue tracking continues to drain PeriOperative staff time which could be spent assisting patients and physicians. Ultimately even one missed allograft could result in one or more days of investigation for tissue tracking coordinators.
3 Excellent Tissue Tracking Resources
Below are the three largest agencies which have published guidelines around the manufacturing, distribution and usage of tissue. You can also find tips and information to help make sure your organization is prepared to meet the ever-increasing rules and regulations in the perioperative environment.
(AATB) American Association of Tissue Banks – In 1976 the American Association of Tissue Banks (AATB) was formed in response to the growing demand for allografts.
FDA – In 2005, the U.S. Food and Drug Administration finalized requirements for current good tissue practices and mandated new rules regarding the "manufacture" of allograft tissue.
The Joint Commission – Published its tissue tracking standards in 2005 which specifically impacted how Operating Room staff could handle tissue and biological implants.
How is your staff dealing with the Joint Commission and FDA published standards for tissue tracking?  iRISecure is a tissue and implant tracking solution designed to enable hospitals to meet the ever-changing regulatory requirements from the Joint Commission, OIG, State Departments of Health and other regulatory agencies. Using advanced work­flow automation and dispensing technologies based on RFID technology, iRISecure Tissue Tracking delivers a solution that aligns with your compliance goals while remaining simple and user-friendly for nurses and other clinical staff.  Included in iRISecure is an electronic compliance log designed for regulatory agency inspections, including The Joint Commission.