The Importance of a Supply Chain Technology Strategy For Hospitals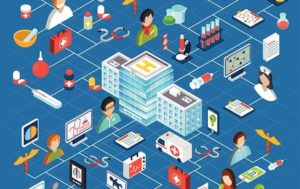 The US Healthcare system lags behind the rest of American industries when it comes to using their supply chains as a competitive advantage.  Looking at Amazon, and its strategic use of its supply chain as a primary competitive advantage, highlights the differences between other industries and healthcare.  Amazon has invested billions of dollars to build out its supply chain infrastructure and has made significant strides in implementing advanced software and robotics to make sure it can fulfill any order without delay. On the other hand, many US hospitals are still using pen and paper based systems to manage their expensive supplies and drugs that can mount to tens of millions of dollars in inventory for an average hospital.
While US hospitals are in the business of patient care, they still need to have a robust supply chain to be profitable in an era of ever-shrinking margins. They also need to invest in emerging supply chain technologies in order to support their operations and ensure that they have what they need when they need it.  Therefore, every hospital and healthcare system needs a well-defined strategy to help their disparate departments, often with different IT platforms, function as a single supply chain.  As this article on Health Data Management by Dave Brunswick explains:
"So how do organizations capitalize on the promises of a well-oiled supply chain that lowers costs, reduces inefficiencies, and improves patient care? First, they must consider the importance of supply chain processes and align them with company-wide goals of delivering high-quality care.

Having just the right amount of supplies is important. Too few of these products could threaten patient care; too many items result in overstocked supply rooms, storage and time inefficiencies, and wasted or misappropriated funds. And drug shortages can prove extremely costly for providers.

Most healthcare organizations support the basic supply chain functions—looking up supply inventories, placing an order, facilitating payment and signing off on delivery. But the more complex operations continue to challenge organizations.

Consider what it takes to support the shipment of blood, plasma, and other highly sensitive biologics. Such products have limited shelf lives that require temperature- , humidity- and light-controlled delivery and heightened governance. Furthermore, some pharmaceuticals now require global serialization as part of the Drug Quality and Security Act to identify and trace prescription drugs as they are distributed around the United States.

These supply chain operations that rely heavily on tagging tools, RFID devices, and other new-age technology require a whole new level of security, tracking and governance to meet increasingly rigorous compliance standards.

Such emerging data movement requirements don't come naturally to most organizations – especially healthcare organizations, which primarily treat people, not move goods. However, medical organizations are already technologically positioned to optimize the supply chain, as they are already heavily invested in solutions to securely exchange patient medical information.

It's critical, then, to align supply chain goals throughout the organization, as siloed departments beget siloed information – a noble enemy of operational efficiency. Achieving companywide integration can then bring the entire lifecycle into view and allow medical organizations to control inventory, manage costs and improve workflows.

The marriage of technology, process and people will be driven by a modern integration platform built with the flexibility, speed, and security to ensure reliable communications and comprehensive transparency throughout the ecosystem.

Organizations likely already have the tools—even some integration tools—they need to complete daily tasks. But do they communicate with one another? Are they delivering actions without scripting? Do you spend time manually pushing or pulling data through?

Any standalone, non-integrated technology pieces are part of the problem. They must be designed into an overall integration strategy where interoperability among the various internal and external systems is the oil that greases the supply chain wheels."
Read the full article here: How to use IT to improve healthcare supply chain operations
While having different IT systems to provide improved operational efficiencies within the supply chain is a great first step, having them integrated with each other will lead to the most successful outcomes.  Systems like iRISupply can help integrate point-of-use data with the electronic medical record, billing and materials management systems to automate the management of expensive medical devices and supplies.  Taking advantage of these emerging technologies to streamline the hospital supply chain will not only lead to better financial outcomes, but also improved employee satisfaction and patient safety.  Make sure that your supply chain IT strategy is well-defined and that you have a plan in place to have all of your systems communicate with each other.